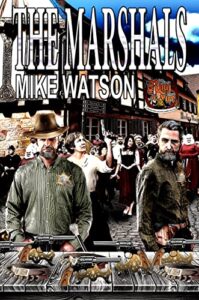 Late last year, I was approached by the editor of Ring of Fire Press asking for a braided novel version of my 1632 Marshal stories. After I searched and discovered what a 'braided novel' was, I agreed. Basically, it was all my Marshal short stories, novelettes and novellas, merged into a novel with a wrapper story for continuity. I delivered it and the book was published in mid-January, 2022.
It was a hit. In less than six months the book scored 281 four and five star reviews. I believe it had the most positive reviews of any Ring of Fire Press books on Amazon, in only six months.
The owner of Ring of Fire Press, Eric Flint, passed on July 17th, 2022. Eric's widow decided to close the publishing business and The Marshals was pulled from Amazon. The Ring of Fire Press website was shutdown, tool.
If you haven't purchased a copy of The Marshals, it's too late now.
However…hopefully there will be a however…rumor has it that a third-party may intervene and acquire the  some of the rights. I hope so. I never received a penny in royalties from the novel, nor for a short story published in a RoFP anthology a year before. That makes me one of many with a financial claim on the publishing house. I was due an accounting in July for the novel, but events stopped it.
I await the return of my rights for The Marshals per my contract with Ring of Fire Press. Once I have that, we'll see what happens.
In the meantime, I'm writing the last chapters of The Prodigals. Then it's off to my editor and cover artist.