I've released The Prodigals for pre-orders until April 28, 2023. It will be available from Amazon in eBook format.
So, click on the image below and order your copy. The Prodigals will also be available in paperback soon.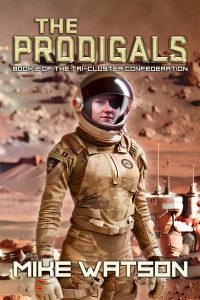 In the midst of an interstellar war, three people find themselves facing a long road home.
Roger Blankenship fled his home when the EarthGov tyranny drove the Thirty Houses from SolSystem. Blankenship placed his small group of warships between the EarthGov dominated System States Alliance and the Thirty Houses, fleeing to a new home.
Marcus Tolliver fled his home to escape the machinations of his father, a Magnate of Endicott's World, to join the Confederation Navy. After the death of his older brother, Marcus refused his father's demand to leave the navy and return home to be his father's heir.
Katje Kappel had her life planned out. She wanted to enter the naval academy and be like her older sister, and her father, a naval ship's captain.
However, events forces change. Roger Blankenship, after the warships of the Thirty House navy is turned over to the Confederation Navy, finds himself leading a small Confederate task group returning to SolSystem and finding human life on the verge of extinction. Marcus Tolliver finds himself given a task to deploy a new technology assisted by a young woman who is not what she appears. Katje Kappel, not meeting the requirements for entry into the Naval Academy, finds herself on an alternate path. One she hadn't expected or wanted.
With the spread of war, each faces unexpected tribulations, danger, and uncertainty of their return home.
"This full-bodied work of military science fiction threads a touching story of a young woman's growth, advancement, and family through its many scenes of space-marine action. Fans of the subgenre will be more than satisfied." Virge B. Red Adept
"The war is officially over, but the action hasn't stopped for the Tri-Cluster Confederation military. New technology is being developed, new soldiers are being trained, and new military units are being built in anticipation of future conflict in this exciting sci-fi saga." Brittany M. Red Adept